TDF2016: Chris Froome Punches a Fan, RUNS to Victory
TDF2016: Chris Froome Punches a Fan, RUNS to Victory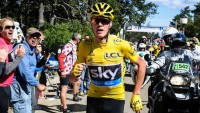 Last week we talked about the competitors jersey color significance week-to-week.
Want to know who took the Yellow Jersey for Week 2? The guy who started Stage 8 off by punching a fan in the neck mid ride and ended the week at Stage 12 by losing his bike in a collision with a motorbike, then running up the mountain to grab a replacement and STILL MANAGED TO RETAIN HIS OVERALL LEAD. If there ever was a headline for Week 2 of Tour de France 2016, it's #TDF2016: Chris Froome punches a fan, RUNS to victory.
Want footage? We've got footage.
Stage 8, a spectator running alongside the cyclists on the road gets in the way, leaving little room for the competitors near him to maneuver. What's a Tour de France competitor to do? Here's Chris Froome's solution: punching the spectator in the neck to push him off course. What? It's Tour de France, he's winning and the guy got in the way! (Kidding. We don't condone violence. Quelle horreur!)
Chris Froome punches fan during Stage 8 of #TDF2016 https://t.co/7xxDR8ESoX

— NBC Sports (@NBCSports) July 9, 2016
A camera crew on a motorbike was forced to stop due to spectators crowding on the road. Three competitors mid race had nowhere to go and ended up crashing directly into the camera crew. What Froome does next is go into beast mode- he RUNS up the hill, grabs a Team Sky spare bike and finishes the race. Oh and by the way, judges ruled that he was still in the lead overall!
The crash that set Chris Froome running. Was always likely to happen. #tdf pic.twitter.com/cVJDdcu9X8

— SimonNRicketts (@SimonNRicketts) July 14, 2016
If there's anything to be said about Chris Froome, he's a force to be reckoned with. What do you think?
---